It's time for another tribute to the greatest photo-sharing experience the Web has to offer, Flickr. This installment does not showcase one of the many talented photographers and artists decking Flickr's halls with their creations, but a different breed of flickr-er [flickree? flickroo?] – the curator. Flickr user MyVintageVogue uploads hundreds of incredible scans from vintage fashion magazines. These images, dating between the 1920s and 60s, fill me with daily awe of the elegance of old-school photography.
The immaculate make-up and hair, jaw-dropping composition and strict tailoring not only hold up but are excellent examples of Doing It Right. Some of these actually remind me of Nadya's work, which brings me to another observation: fetish themes. My opinion is colored by years of admiring fetish photography, but just look at this image from Vogue Magazine, 1957!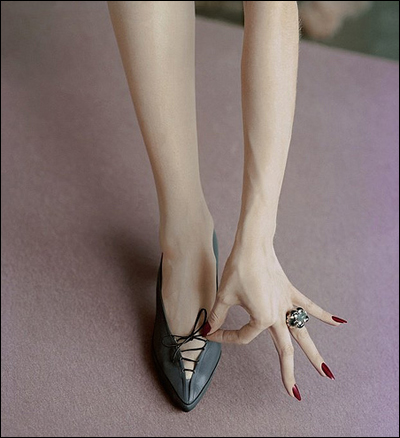 And how about this Horst P. Horst shoe revelry from 1941?
And there is so much more! Between the impossible silhouettes, futuristic elements and avant-garde designs you're guaranteed to slip into a trance while browsing this photo-stream. Tread with caution before you click the jump – a bounty of MyVintageVogue eye candy awaits!