Video by Ronnie Bruce.
This typographical visualization of poet Taylor Mali's performance of "Totally like whatever, you know?" just knocked me on my ass. Literally. I am sitting on the floor, heart beating very fast, fist in the air, shouting "YES, YES, YES!" because Mali has called my demographic out on one of our most persistent and obnoxious habits: a general lack of self-respect when it comes to the way we talk.
Generally speaking (hurr), American twenty-to-thirtysomethings are a flakey, indolent lot in regards to oral communication. The aptly named Generation Why is suffering an epidemic of infantile intonation, "then he was all/she was all" shortcuts, verbal tics of the "like", "and um" and "you know" variety, and shamefully poor diction on the whole. We're all starting to sound like Janice from the Muppets, only less classy.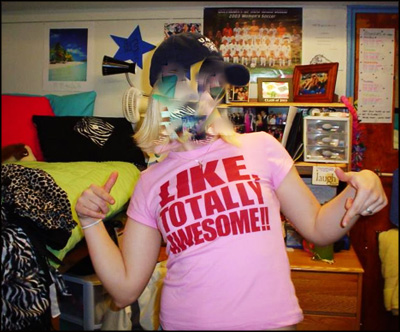 (Found this snapshot in a random search. Wanted to obscure this gal's face 'cause it's all about the shirt. Photoshop blur tool did something… arty. Hopefully she won't mind.)
I'm certainly not immune! And the more time I spend with peers who replace commas and pauses in oral communication with "like"s and "you know"s, the more prone I am to the same witless fucking verbiage. It's horribly contagious. In the past, I've taken to wearing rubber bands and snapping them against my wrists to break myself of bad speaking habits. After a night out with particularly self-indulgent friends, I find myself listening to the old guard on NPR and the BBC for hours, just to cleanse my own impaired palate.
Bravo, Taylor Mali, for eloquently lamenting, as Roger Ebert puts it, "the decline of talking like you're intelligent and sincerely care."
By the way, who else is following Ebert's vibrant Twitter stream? This gem is only one of literally hundreds of incredible links I've followed from there in recent months. I doubt he'll ever see this post, but seriously, Mr. Ebert, if you happen to read this, thank you so much. These days, you're not just a top film critic… you're one of the most important cultural curators on the web. Bravo to you, too. (Fer sure.)