Update, 02/24/09: Some good folks over at NPR (thank you, Andy Carvin and Bob Boilen!) are looking into the oversight written about here. They've since added proper credits to the piece. Also, Zoë is currently listed as the #2 seller on iTunes classical. All's well that ends well.

Koko Theater, October 2008, London. ⓒ Polstar Photography.
I think my Coilhouse cohorts will agree that one of the very bestest things about being involved with this venture is being able to give props to lovable people who do lovely things. I've been meaning to sing the praises of cellist Zoë Keating for ages now. She's a visionary artist with immense talent and soul… and a sweetheart to boot.
When we first met several years ago, she was playing second fiddle (so to speak) in Melora Creager's honorable neo-Victorian outfit, Rasputina. At the time, I was astonished by Zoë's incredible ear and deep, rich tone. As it turns out, I was only hearing select facets of what she's capable of.

Zoë Keating opening for Amanda Palmer last year. Shot by AleXIXandra.
More recently, Zoë has been self-producing and releasing solo recordings of a project she calls One Cello x 16, in which she deftly uses live electronic sampling, looping and repetition to create lush, beautiful layers of sound. Zoë is classically trained but a swashbuckler at heart; her music builds a hypnotic, swaying bridge between the old guard and the new. Ambient, pop, and orchestral sensibilities trade off, with each distinctive element bolstered by her powerful musicianship and sensitivity.
Regretfully, the reason I'm finally getting around to writing about Zoë is a bit of frustration I'm feeling on her behalf. NPR's show All Things Considered used a song of hers yesterday without permission or credit. Zoë's been featured on NPR before –a great opportunity for her– but in my opinion, that's no excuse for their programmers to assume she'd be fine with them arbitrarily yoinking her work and using it anonymously. NPR is supposed to support off-the-beaten-path artists, not exploit 'em, right?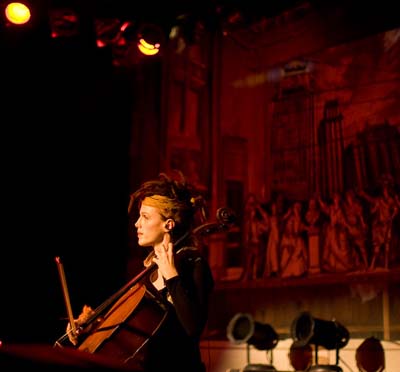 Photo by David Peterman during the "Who Killed Amanda Palmer" tour, 2008.

Zoë, understandably, feels conflicted about the situation:
People have written saying I should be flattered. Yeah, I'm flattered, but I have mixed feelings. I feel the same as [I did] when a Channel 4 doc used my music without permission, money or credit. I'm flattered… but also bummed that 1) my music isn't worth anything and 2) no one thought to ask if I cared about how they edited it, or in what context it's used.
Also, the economics of it are kind of a bummer… I'm an obscure experimental musician. Just a link on the All Things Considered music page, along with all the other links to music used in yesterday's show, would help. RadioLab is a good example of this. They use my music with my permission and they credit me. I am happy for them to do this because I love and support what they do, and I benefit from increased exposure and substantial iTunes sales (thank you RadioLab!). That is a fair exchange… (although sometimes I think I should pay a cut to RadioLab because they have helped me so much).
Sometimes this business is such uphill going that I have to remind myself why I spend all my time doing it (er, why? something about the need to create, blah blah). Maybe it would be easier to go back to being an Information Architect and just [doing] a little music in the evenings for my own benefit. Ha! Not likely.
Whew! Thank goodness for that, lady! Don't you go anywhere. (Except maybe Australia, with Amanda Fucking Palmer. That'd be okay, I guess.)
I'm hoping this post will send at least few new pairs of ears Zoë's way. Maybe some of you seasoned fans will spread the word as well?
You can buy Zoë Keating's gorgeous music on iTunes, eMusic, Amazon, or directly through her site. Support this woman. She deserves all the credit in the world.