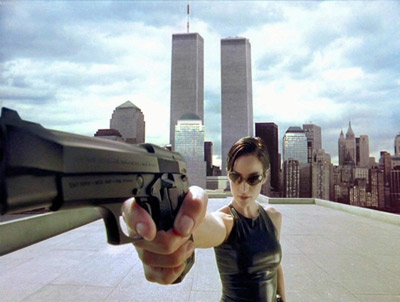 The Matrix turned 10 last week. It debuted March 31, 1999, though us plebs had to wait til April 2 to see it.
It's easy to forget, in the wake of two disastrous sequels and equally lackluster (except for the Animatrix) tie-ins, exactly how radical and groundbreaking a pop culture artifact the first movie was.
Try, for a second, to look at the original trailer. Imagine you know absolutely nothing about the movie inside:

Pretty f'in cool, no?
To date myself, I was 16 at the time and came out of the theater utterly energized. I wasn't the only one. William Gibson dubbed it "an innocent delight I hadn't felt in a long time." Darren Aronofsky raved that it heralded a new age in sci-fi. Neil Gaiman and Poppy Z. Brite wrote stories to fill out the movie's universe.
It became a phenomenon, immensely successful and influential beyond anyone's expectation. Hell, conservative scolds even blamed the movie's anarchistic heroes for the Columbine massacre.
The Matrix worked because it managed to blend philosophy, allegory, action and fashion into one glorious, fun package.

There are, arguments (good ones too) that it derived a lot from Grant Morrison's masterpiece The Invisibles, along with a bevy of other sources that the movie's makers, the Wachowski Brothers, cobbled it together, Frankenstein-style, from earlier, edgier visions.
But the same argument can be made about many pieces of innovative art. The Matrix managed to forge its various pieces into a fast-paced whole that didn't just electrify the fringes, but brought its fusion to sold-out theaters around the world.
I watched it a few days ago and remained impressed how utterly innovative it was, especially for a mainstream movie of the time. While its big reveal is now common knowledge, the Wachowski keep hold the suspense surprisingly well within the movie itself.
There's something else too, a memory I've never forgotten, and something that ties The Matrix in perfectly to the times in which we find ourselves, and gives a key clue to its enduring appeal.
Sitting in the theater, still an awkward teen (is there any other kind?) I remember a surprisingly loud cheer going up all around when Carrie-Anne Moss' uber-badass Trinity began beating cops senseless with her martial arts skills. It broke out again when she and Keanu Reeves' blank-faced would-be messiah Neo tore into a government building, guns blazing.
I could understand the appeal, sure enough. The audience, like most people, were vaguely dissatisfied with their lives. They felt adrift, unfulfilled. Here were heroes who were once, at least somewhat, "normal" people, but they awakened and became their imagined identity, transformed into stylish, PVC-clad (oh yes), gun-wielding badasses, fighting against the shadowy powers that had ground them under heel.
I think the word "zeitgeist" is overused, but The Matrix captured it perfectly, becoming a technological vision of Gnostic liberation that caught on like wildfire. It carried within it that ancient appeal, at least as old as the Hymn of the Pearl, if not even older: The accepted world is a lie. Wake up and become who you are meant to be.
A dangerously powerful siren-song if there ever was one, and not always wrong. Selves, after all, are not found but made. Without some defiance, no one would get out of bed in the morning.
The movie also tapped into the anger a lot of people feel but never quite express, the pent-up resentments of our world that lead a packed theatre in the rural South to cheer a fetish-clad woman pounding the police into pulp. It fed the part in all of us that not only felt there was something deeply wrong with the world around us, but wanted to make "them" pay.
Seen in this light, many of The Matrix's absurdities make sense. Using humans as a power source? Utterly, laughably impractical. As a metaphor for that nagging sensation that some vast structure is leeching your life? Perfect.
That's what the original movie nailed, and the sequels missed. The Matrix hit such a nerve because, along with its visuals and style, everyone could imagine themselves into that kind of adventure. Making the setting too specific, fleshing it out too much, trying simply to create another Star Wars-like epic franchise, lost that tense, ragged magic. The Wachowski Brothers, despite some valiant attempts, never regained it.
But turn the lights low at some point and watch the original with younger eyes. It succeeds. The simmering mood it tapped into is still out there and the hopes it proved a powerful metaphor for will never disappear. If anything they're far stronger now than in 1999. The Wachowskis should have forgotten the sequels and ended with Neo's final proclamation:
We can dream, right? It's not a bad place to start.

So, Coilhaüsers, what say you? What are your memories of the Matrix? What's your opinion? Awesome classic or over-rated hodge-podge? Tell us.