Photography can serve many functions. One of the most powerful is open up parts of the world we never see, reminding us that they are as viscerally real as our own lives. Humanity's a huge thing and there are teeming cultures all around us — universes really — that we rarely glimpse from inside. Day by day, it's amazing how much of it we file away as alien, content to leave it there.
That's what struck me when I first saw this image of a slit possum splayed out for dinner in a homeless camp. The photo was unidentified, but the reality was jarring. Turned out it was by Mike Brodie, a.k.a. the Polaroid Kidd (thanks to Jonathan Welch for the ID). Brodie left home at 18 to ride the rails, armed at first with only an old Polaroid SX-70. Over the next three years, he proved an amazing photographer, documenting the travels and lives of his fellow squatters and vagabonds.
Brodie's work has been justly praised, with exhibitions around the world and ecstatic comparisons to Dorothea Lange. However, he seems to have virtually disappeared during the last year: no new exhibitions, website down, the works.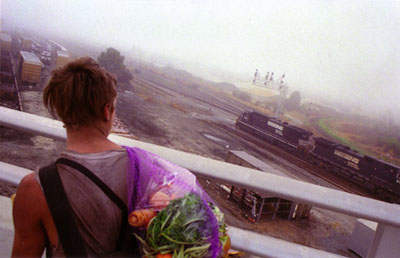 Erik Lyle, a past squatter and rail-rider himself, writes that Brodie's work provides glimpses of "a sort-of hobo-topia where packs of grubby kids (and dogs!) play music, share food, and forage in the ruins of post-industrial America together, while traveling together from town to town on freight trains and homemade river rafts."
Yeah, that's there. But, I also found his pictures — especially the jarring first image I found — to be an effective antidote to romanticizing the homeless. Yes, there's vitality, fun and even a sense of grandeur here.
Yet a look at the missing teeth, the Mad Dog and the ever-present grime shows us a different side as well. This is still a group that remains nigh-illegal thanks to many a gentry-friendly law, is extremely vulnerable and are often plagued by mental and physical illness. The knife cuts both ways.
More glimpses below. Have a look.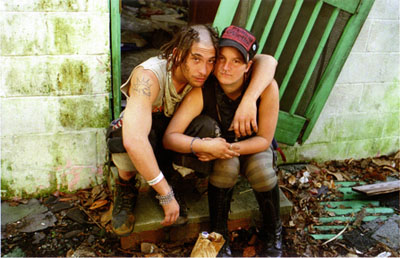 All images © Matt Brodie.