Check out this astounding stunt from the popular German game/entertainment program, Wetten, Das..? wherein three life-sized dinosaurs crash the party:

(Via Cathy Tree Harris, thanks!)
Okay, first things first, I think we can all agree that cuffed blue jeans are probably not the way to go when you're wearing the most incredible baby T-Rex costume puppet ever friggin' made in the history of EVAR. But still. Holy shit, right? Someone over at Geekologie sums up my own feelings about this clip quite well:
Let me tell you: when that [baby T-Rex] first came running out I thought it was CG. But it wasn't. And neither were my 30 boners! My God, I've never wanted to be part of a live studio audience so bad in my life.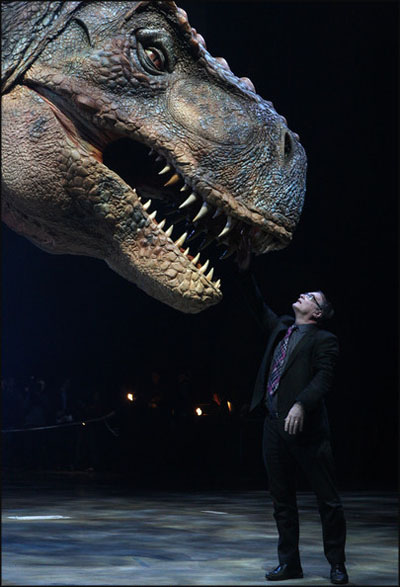 Seriously! Well, it turns out that if you live in the UK, US, Canada or any number of cities in Europe, you can have your Brachiosaurus and meet it, too. The dinos in that clip are only three of over 10 species featured in a spectacular live arena show spin-off of the cherished BBC series Walking With Dinosaurs. Creature designer Sonny Tilders and his crew used their extensive knowledge of puppetry arts and animatronics to bring these long-extinct giants back to life.
Coilhouse field trip, anyone?

(More photos and clips after the jump.)