Gadjo Disko was a notorious dance party that first took place at the Rhizome Collective in Austin, Texas in April of 2008. This past Saturday, we bade a sweaty, sparkly farewell to this be-spangled cavalcade of devoted Diskovites. Miraculously, our fake eyelashes stayed adhered despite our tears!

Miss Valerie Hemming (aka. Vas ist Das) and Wanda Kruda boogie down at the second Gadjo Disko.
Gadjo Disko was born from the restless minds of four storm-tossed former New Orleanians (myself, Mack Henson, Chesley Allen and Sarah King) who found ourselves part of the growing diaspora in Austin after Hurricane Katrina. We had put on extravagant events in New Orleans inspired by the Dada Balls of yore: Cabaret Revoltaire was a balls-out, full-contact, total-participation party that combined art, dance and performance without the restrictions of a passive audience. After the vagaries of the storm, we decided to pare it down and just do "a simple dance party". Little did we know then what a behemoth our baby would become!

Tash Kouri of The Gyronauts.
Our Otesánek grew and grew until it encompassed and surpassed the boundaries of age, gender, ethnic background or cultural milieu. I'm not sure where else you might see 66 year old grannies (our amazing friend Beth, who danced at every single Disko) getting down on the dance-floor next to depraved trannies!

Sometimes coming up with an ensemble for the evening can prove challenging. When in doubt, go without! We always provided free entry to completely naked people.
I've traveled far and wide enough to know how rare it is to find a party that transcends any one scene, where burners, hipsters, nerds, punks, queers, goths and all the beautiful and (thankfully) unclassifiable freaks can get together without the least trace of pretension or scorn…

The King of the Dancefloor + Mack = I'm actually out of words to explain how much I love this.
This is somewhat shocking in a party where the maxim is "Dress to Transgress!" One might fear encountering the old up-and-down stare– the kind one gets in certain clubs where ensembles are silently judged by fancy creatures too dolled up to dance for fear of smearing their macquillage. Not the case at Gadjo Disko, where surgical adhesive is the only way to keep your jewels stuck on your cheekbones though the swelter of Texas August in a club with a busted air conditioner. Truly, at risk of sounding sappy, I have never seen so many giant grins displayed unabashedly. It's incredible what a night spent dancing one's ass off can do for the soul.

Francesca Furiosa in a pure, sweaty state of bliss on the dance floor.
We were frequently asked for clues on what to wear to Gadjo Disko, or whether there was any unifying theme for the party. The truth is, it was a total free for all, and attendees had very different versions of transgressive dressing. As for themes — they was never set in stone, unless you count "apocalyptic-ethno-glam-nouveau-cockette"! We could always expect lots of sequins, tulle, jewels, glitter, moustaches, bare breasts (and whatnot), leather and feathers – though at times people got very archetypal with it. The Disko was the closest thing Austin has to true Mardi Gras — not the Bourbon St. tourist version, but the authentic transformative Bacchanalia, and with it, the freedom that mumming brings.

I think this is one of the best fauxstaches I've ever seen (and I see a lot!)
The name was a tongue-in-cheek play on the title of Tony Gatlif's film about the Roma near Bucharest, Gadjo Dilo, which means "Crazy Stranger" or non-gypsy. We thought it only appropriate; the vast majority of our audience was bound to not be of Romani descent (excepting myself, according family legend), but still huge fans of Romani musicians like Taraf de Haïdouks, Fanfare Ciocârlia, Esma Redzepova, and Kočani Orkestar.

Here I am in Peking Opera guise, smudged yet very satisfied.
Raising awareness about other cultures through the music we play always played a big part in our reasons for making this party. Without succumbing to a crap "World Music" label, we managed to turn people onto to some crazy music from all over the place: Brazilian Baile Funk, Kurduro from Africa, Cambodian rap and Slavic Hip-Hop as well as loads of Balkan beats. Some quintessential Gadjo Disko favorites include Azis (a transvestite Bulgarian Romani chalga singer, politician, and talk show host), Verka Serduchka, and Boney M. ("Rah-Rah-Rasputin!") DJ Chicken Kiev, aka. Chesley Allen, continually scoured the most obscure corners of the globe to bring us his signature blend of 100% recycled culture, straight from Gadjodiskostan.

Miguel Angel and Hermie Escamilla gettin' down.
People came to get down, and there was something especially wonderful about seeing so many different sorts all simultaneously enter into the trance state that serious dancing will take you to. Gadjo Disko is a powerful aphrodisiac, as evidenced by the numerous Craigslist missed connections ads that invariably sprang up overnight, like mushrooms. The disko-voodoo-love-magic has been the catalyst for countless love affairs, and at least one baby!

Miss Cynthia, dazzled and dazzling.
We threw special extravaganzas for Halloween (Disko de los Muertos) and DIY fashion shows (Glamour and Sickle), where we were constantly amazed at the inventiveness and originality of our fellow participants. A wealth of performers opened up our nights, from Mongolian Burlesque (Franziska) to New Orleans Sissy Bounce (Big Freedia). Various acts both international and local all graced our stages: Winovino, Golem, Sangre de Sol, Buscando el Monte, Rebecca Havemeyer + Christeene, Minor Mishap Marching Band, DJ Nohmaada, Mistress Stephanie and her Melodic Cat, The Invincible Czars, Faith Delphi, MC Subzero Permafrost, ¡Mariachis del Muerte!, DJ Brânză, Baruzuland Shadow Theatre, Leila Bela, Brass Ovaries, Little Stolen Moments, Dominique Vyborny, Katzen, Agent Red and Sick, to name a few.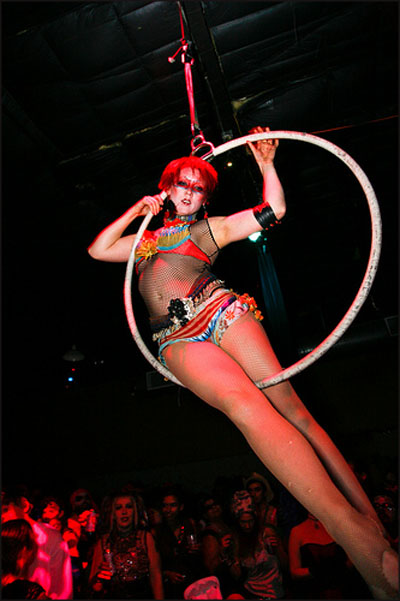 The delightful Agent Red performed aerial feats of beauty on the hoop. (Photo by Ed Lehmann.)
At our very last Gadjo Disko, we were floored and humbled by the enthusiasm and devotion shown by hordes of very sparkly attendees who waited in lines down the street for blocks. I'll keep my fingers crossed that the planets will align just right at some point in the future for a resurrection, because there's just no way we can say goodbye to something so good forever!
Gadjo Disko is coming to a close because one of our glorious triumvirate, Mack, who works the door with inimitable pizazz and fabulosity, is moving to the Bay Area! We will miss him enormously, and there's no way it could all happen without him. The three of us have worked really hard to make Gadjo Disko what it is, and it's been an amazing experience. Hopefully we'll be doing more events in the future, though. I can't imagine us not putting on parties!

For Halloween 2008, we put on "Disko de los Muertos". The response was incredible. I've never seen so many beautifully painted calaveras in one place.

These are perhaps not the most traditional versions, but I love their faces.

My sweetheart and I dressed Salome and St. John the Baptist — fulfilling one of my lifelong costume dreams.

Luckily, we were able to re-attach his head later. It's amazing what you can do with flesh paste! (Photo by Chip Warren.)

Our DJs were once a duo, until Sarah (aka. DJ Organgrinder) left to pursue studies in Chinese medicine. She was an instrumental partner in Gadjo Disko's inception.

Matt Hislope of Rubber Repertory.

These guys are known as Computer Jesus Refrigerator, and I'm pretty sure they always dress this way.

Mack in his Shanghai Tiger garb, with the very best boots in the whole world.

Kangaroo Apricot is not a mime. Which is why he's still alive.

Darby Rose and me on the night of the last Gadjo Disko. Very bittersweet. (Photo by Chip Warren.)

Dancing and chaos after the Glamour + Sickle Fashion Show we had last August. Hung Nguyen wears Lyu Rad, and Asen (aka. Shi Feticcio) wears her own design for Cross Couture. (Photo by Wendy Corn.)

Adrienne Herr, clad in Jade Rumor, closed out the show as a Diskostani bride. (Photo by Wendy Corn.)

DJ Chicken Kiev and the fabulous bellydancer Franziska.

Mister Tony, looking especially stunning as Mayan samurai revenant.

In a recent interview with The Onion's A.V. Club, Mack elaborated on some of the most satisfying aspects of doing the Disko:
"This is music that nobody's ever heard before, and the fashion style and even the party style—nobody had seen anything quite like that in Austin, or anywhere as far as I know. Watching that community come together and feed off each other energetically and create this new sort of style was amazingly rewarding. Also, without sounding like a hippie, "the vibe." Austin tends to be a little uptight sometimes in its party style. You know, everybody's a little too cool to clap for the band. To see them get loose and shake it—like, "ass shaking in the streets" New Orleans-style—was something we tried to promote, and I feel like we managed to do it. I mean, for the first one, by way of trying to get the idea across, we offered free admission for anybody who would do a wine enema on the dance floor. That's something you see out in New Orleans. These kids will be up on the pool table with their ankles in the air, and somebody shoving a wine bag up their ass. Obviously, you get trashed really quickly—and once you've been shoving wine up your ass on the pool table, you know what kind of night it's going to be. There's no going back; there's no middle ground. We actively promoted that good- humored, debauchery kind of fun, and discouraged the hipster attitude. It was definitely hands-on, booty-out partying. That was super rewarding to see it evolve in Austin, in a place that we hadn't been seeing it."
LINKS: