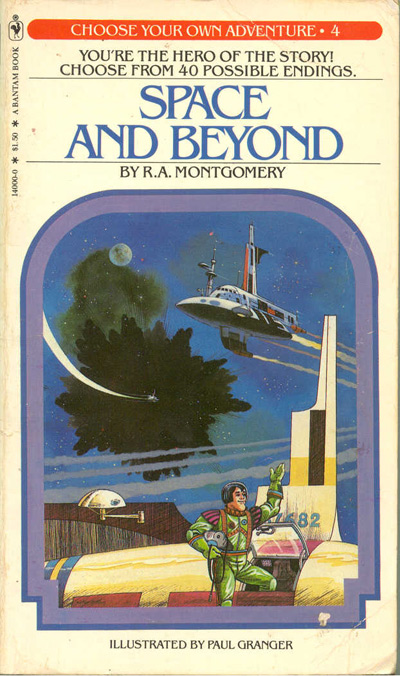 Choose Your Own Adventure is all about choices. In a way it is a simulation model, an approximation of reality without the risks of the real world. You make choices leading to different endings. If you don't like the ending, you can start again with different choices leading to a different ending.
We as individuals and as societies make choices all the time. The history of our species is amazing: fire, numbers, alphabets or pictographic language, medicine, architecture, money and banking, art, music, laws etc. Choices got us there. We are still making choices both as individuals and societies. Not all of them are good – but, we can change the bad choices, we hope.
-R.A. Montgomery
Since the last column consisted of an in-depth tackling of Joanna Russ' classics, I thought it appropriate to do something a little lighter for this edition of All Tomorrows.
The perfect subject arose when, while rooting around in an old box in my seemingly endless closet, I found an ancient (1980) era edition of Space and Beyond, one of the first in the famous Choose Your Own Adventure series that I'm sure many of us thrilled to as wee lads and lasses.
As I opened the somewhat frayed and yellowed volume, I anticipated a nice, clean jaunt down Nostalgia Lane.
I was wrong. Horribly, terribly wrong. I had forgotten just how bizarre some of the rants of Choose Your Own Adventure founder/author R.A. Montgomery were, and how utterly dedicated he was to mercilessly crushing any youthful fantasies of becoming a (enormously chinned, if the old artwork is any indication) sci-fi adventurer.
So, after galavanting around the universe for a little while, I run into this:
A chance to go to the unknown is probably really risky, but there is that desire in most people to take big risks. You race back in time toward the edge of eternity, the beginning of the entire universe. You achieve an elastic weightlessness, and a sense of complete peace and calm. There is no sound, no light. But no darkness either. You race back to the very beginning, to the pulsating, exciting start. You return to the big bang that started the whole thing. You are and have been a part of everything, always. The beginning is the end.

The End.
Great. It doesn't stop there either. I'd venture to say that Space and Beyond, along with Montgomery's similarly bizarrely philosophical entries in this series for kids are responsible for more nascent strangeness and miserabilism in my generation than any children's book since Bridge to Terabithia.