Meryem Yildiz's world is a prescient place of whispered warnings, subtle secrets and an eerie language of memory, of reveries, of loss.  Strange, stark, images of ostensibly quotidian objects – "mementos, hidden treasures, dusty mirrors, nonchalant cats, mason jars, pages lost and found" – are laden with layer upon fragile layer of ambiguous allegory and understated intent.  There is a structured discontinuity here; moments fragmented, multiplied, merged yet again, that creates an uncanny whole – broken spaces full and empty, austere and adorned.  A Delphian dream, interrupted, repeating itself over and over.
A bit of  biography from Meryem's website provides an intriguing glimpse into how her diverse background has influenced her work, manifests itself in current endeavors, and inspires future projects and collaborations – and the artist has herself kindly answered a few of our questions, elaborating on these points.
Born in Montréal from a French-Canadian mother and a Turkish father, Meryem was exposed to a variety of outlooks at a very young age, driving her to the diversity and malleability of perspectives … self-taught, Mme Yildiz's work arises essentially from a wise use of unconventional resources. Throughout the creative process and at the heart of her work, Meryem Yildiz never forgets cognition, whether hers or others, nor the messages the human mind wishes to express (or to suppress).  It is no surprise then, to learn that she majored in psychology at McGill University and completed a graduate diploma in translation at Concordia University.
COILHOUSE: The duality you feel influences your work –  from your background and  exposure to different and disparate outlooks  –  can you expound upon this?
MERYEM YILDIZ: With my upbringing, I was confronted to two different worlds. This duality is a functional one: I love each culture without subduing the other, and without melding them into an indiscernible hodgepodge. When one is removed from the other, my reality and my self no longer make sense. The same applies to how I approach most of my work. By favouring diptychs, I can illustrate two facets of a single story. Whether it is a moment cut in half, a before or an after, or elements of a same narrative: one could not be without the other.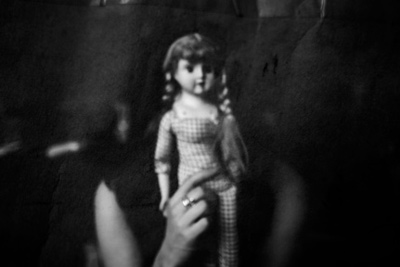 My understanding is that your background in psychology plays a part in your pieces, and I find it fascinating –  the idea of expression v. suppression or expression and suppression, depending.
I've always had a strong propensity toward nuance and secrecy; the quiet hushed or revealed; the mysteries and the many keys to unlock them. Photography for me is an expression of this fundamental desire to share, but without the brazen character sometimes associated with absolute disclosure. With allegories, I retain a form of discretion, but I also let the world in, and I invite the viewer to create their own reality or interpretation.
What are you currently working on that you would like people to know about?  How do you see your process evolving as you continue to create?
I just wrapped up an exhibit, Interstice, at the Ottawa School of Art, which explored dichotomies (empty/full; private/public), and the outgrowth of pieces into space & time. I've also been actively collaborating with long-time friend and experimental musician Eric Quach, who performs as thisquietarmy, a dark ambiant/drone act. His label, TQA records, will be releasing Aural Diptych Series – much like split records – featuring two acts per package. Mirroring these musical pairs, I will provide diptych prints as artwork to be included in the first few releases. I hope to continue to incorporate poetry and "alternate universes" to my pieces; the meeting of worlds and disciplines is something that appeals to me, like a fusion of forces that are entwined rather than in parallel. & I am always open to collaborating with fellow artists to conjure up magic.