"Botanica" by Richard A. Kirk.
The artwork of Richard A. Kirk is delicate, dense, mysterious, formidable. Rendered in ink, graphite and silverpoint, his most successful pieces conjure echoes of everyone from Rackham and Froud to Yerka and Barlow and Beksinski; everything from the The Garden of Earthly Delights to The Fairy Feller's Master Stroke to Haeckel's monographs; yet the overall aesthetic is very much its own thing, and still evolving.

"Chimera" by Richard A. Kirk.

Kirk's done illustration work for China Mieville and Clive Barker, and shares Strychnin representation with Coilhouse faves like Madeline von Foerster, Chet Zar and Natalie Shau. In other words, he is a badass. Keep an eye on him.
A few more pieces after the jump. Click their titles to see higher res versions. Also see previous Coilhouse coverage of:

"Murder in the Court of the Katydid King" by Richard A. Kirk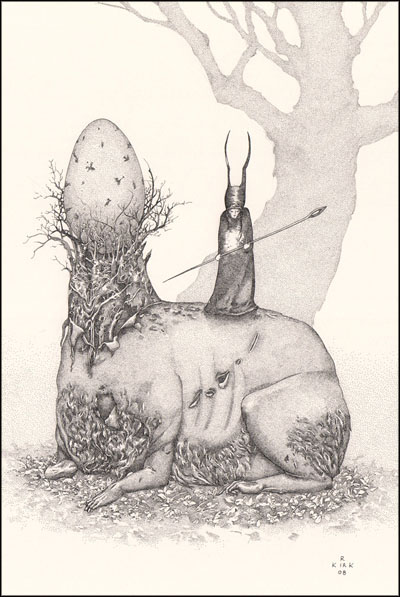 "Iconoclast" by Richard A. Kirk.

"Searching for the Breadcrumb Navigator" by Richard A. Kirk

"Long Leggers Call on What is Required" by Richard A. Kirk