All photos in this post are © Laura Kicey. Please do not repost without permission and a credit.
"I take the things I see in these places out of their realm and ask the viewer to see what has been overlooked. I prefer to use what I encounter in raw form, creating visual order by giving new context to what I have singled out."

–Photographer Laura Kicey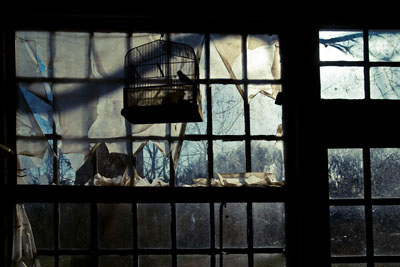 Laura Kicey and I both joined the now-thriving shutterbug site Flickr aeons ago when it was still in beta, and Laura hit the ground running. She's been uploading all manner of strange beauty captured with her camera –from off-kilter self-portraits to innovative "Construct" collage work to ongoing documentation of an abandoned asbestos factory— for several years now. Laura's also a terrific memoirist, so living vicariously through her stealthy, sometimes dangerous adventures is quite the visceral thrill.
She says "my goal for every image is to build an experience that invokes all the senses as intensely as I witnessed," and with her astute attention to texture, gradations of color, and composition, she succeeds. Really, the only thing missing is Smell-O-Vision.  (Scratch n' sniff truck-stop motel charnel, anyone?)
Her portraits of derelict, hollow houses remind me again and again of the creeping, wistful quality of certain passages from House of Leaves by Mark Z. Danielewski, or the long, lonely, thriving takes in a Tarkovsky film.

Living Rooms, a series of her photographs of abandoned home interiors, will be showing through the month of January at Café Estelle in Philadelphia. Locals who stop by Laura's reception today (Friday) between 6 and 9pm will get a chance to meet the flame-haired swashbuckler in person. Pass on a fist-bump from her old chum Theremina, won't you?
Click below for more haunting images.
All images © Laura Kicey