We're proud to post the first installment in a series of artist features by Coilhouse contributor and friend Jessica Joslin! Jessica and her husband, painter Jared Joslin, appeared in the first issue of the magazine. Jessica was also interviewed on the blog last year. In the post that follows, Jessica takes a look at glass virtuoso Andy Paiko.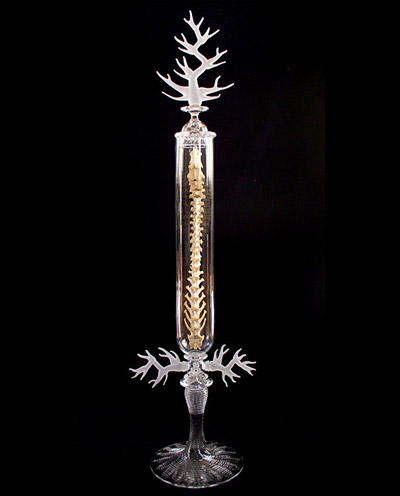 Andy Paiko, Spine Jar
Lately, I've had glass on the brain. In part, it's because I recently had the chance to indulge my (admittedly very nerdy) obsession with Leopold and Rudolph Blaschka. I saw some of their glass jellyfish, for the first time, at the Naturhistorisches Museum in Vienna and the glass tentacles are still vividly trailing through my dreams. Andy Paiko seems to have more than a bit in common with the Blaschkas. There is a palpable sense of dedication to finely wrought craftsmanship and to the lusciousness inherent in the material itself. There is also a fascination with science, particularly with Natural History, and with preserving and celebrating relics from the natural world. Somehow, I suspect that all of the above were also ardent fans of Ole Worm's taste in collecting.
Like something from a Cabinet of Curiosities discovered in a dream, Andy Paiko's mixed-media glass sculptures are mysterious, exquisite and very, very covet-worthy. Paiko's sculptural vessels include a dizzying array of baroquely ornate glass bell jars, designed to house bones, shells, coral and other natural (and sometimes gold-plated) treasures. A related show-stopper is a glass chair, with compartments designed to accommodate objects, including a rhesus monkey skull and rodent skeleton.

Andy Paiko, Detail of Spinning Wheel
I must admit that I am intrigued, although also a bit mystified by, his pseudoelectrical devices. The first (certain to be a hit with all of you Tesla-philes!) incorporates Tesla coils and "is designed to make you ask questions." The second mystery device includes an anometer (an instrument that indicates wind speed and strength) and "was designed to answer any questions you might have."
As if that weren't enough, there are also machines…antiquated mechanical devices, which have been lovingly re-created entirely in glass. His seismograph, balance scale and spinning wheel are, improbably, fully functioning replicas. There is a wonderful video online that shows some of Paiko's devices in action. Check it out here. More images after the jump.

The Glass Chair

The Big Syringe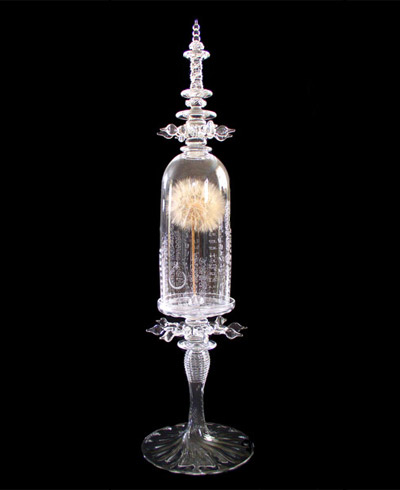 Bell Jar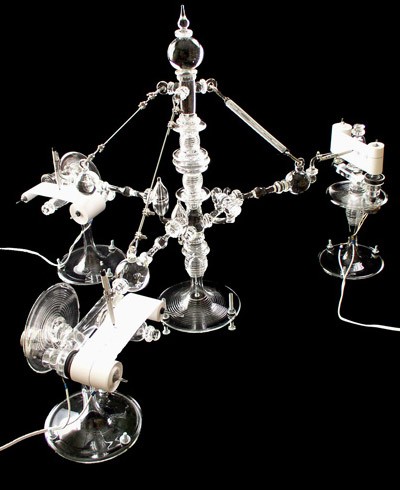 Seismograph

Canis Auribus Tenere