Lee Evil and Dougy Gyro in his "Nautilus" costume.
The tenth Edwardian Ball crept up upon us unawares, while we were still sleepy from holiday overeating and adjusting to our regular work schedules again. All of a sudden everyone seemed to say "This weekend? But I haven't a costume!" And thus began the yearly scramble, with last-minute runs to the fabric store and safety pins carefully tucked away inside as-yet unfinished garments. The Edwardian Ball is one of those rare events where everyone–not just the performers and regulars–dons a costume. For some of us this means little more than our everyday wear, while others brainstorm for weeks.

A contact juggler amongst the revelers.

A pair of lovely lasses on the stairs.
Quickly outgrowing its first home in a crowded San Francisco bar, it moved to the Great American Music Hall for a number of years, adding additional days–Friday, the Edwardian Ball World's Fair and Sunday Gorey Sunday–before coming to its current home, the Regency Ballroom. Even at this larger venue, the ball has reached maximum capacity on multiple occasions, drawing visitors from Los Angeles, New York, New Orleans and even London, in addition to San Francisco's finest.

Justin Katz, bassist for Rosin Coven and founder/producer of the Ball.
Purveyors and pioneers of their own genre, dubbed "pagan lounge," Rosin Coven (amongst them included the founder and producer of the ball, Justin Katz) are the musical hosts, providing a lovely soundtrack for the night's highlight performance by avant-garde circus nouveau troupe Vau de Vire Society, who each year act out a different Edward Gorey story; this year it was The Evil Garden (1965).

Jill Tracy, Friday night.
The Belle of the Ball, chanteuse and femme fatale Jill Tracy, had the crowd dancing to the debut of a brand-new waltz (the first time she's had an entire room dancing, she tells me).

A filled-to-capacity concert hall of merrymakers dancing to Jill Tracy's new waltz.

Vegas and Fou Fou Ha!
One of the most amazing acts of the night was a musical number by the clown troupe Fou Fou Ha!, performing Tom Waits' superlative "God's Away on Business" as the finishing number to their rendition of Edward Gorey's The Disrespectful Summons.

Fou Fou Ha! performing Edward Gorey's The Disrespectful Summons

Calamity Lulu of Quaintrelle Couture.
The lovely Calamity Lulu –in addition to designing the fabulous tailcoat worn worn by Jill Tracy for her Saturday performance– created your intrepid narrator's own wondrous coat (I'm still searching for a proper photo).

Purveyor of fancy accoutrement, Kristy, at her booth.

Miz Margo, in from New York, poses in front of the croquet garden.
A major change this year was the addition of another floor; the basement was dedicated largely to vending, a very small stage and a croquet garden.

Longtime Coilhouse supporters Choklit Chanteuse and Stache at the Adornments for Tarts table.

The milliner/singer Kat Toronto (another Coilhouse comrade) tends to her booth. Her Hey Sailor! hats sold like hotcakes at the Ball.

David Haaz-Baroque, puppeteer extraordinaire, pictured with his cousin and puppet Syrus.
Dave has for years graced the Edwardian Ball with his fabulous puppets; the main villain of Vau de Vire Society's stage show was also his creation, as well as this mosquito, and an enormous bear that threatened the inimitable portraitist Suzanne Forbes:

Painter Suzanne Forbes cowers before the wicked Haaz-Baroque bear.

The Sisters of Perpetual Indulgence always make quite an appearance.

Cicely Hansen (owner of Decades of Fashion on Haight), and Dan the Dandy.

Tom Sepe and his electric-steam hybrid motorcycle, the Whirlygig Emoto.

Coilhouse's very own Nadya Lev, wearing Mother of London. and your Intrepid Narrator, clad in Quaintrelle Couture. (Photo by Audrey Penven.)

Audrey Penven, photographer extraordinaire (look for her contributions in Issue #05 of Coilhouse Magazine!) and the woman who braved my camera to take the photo directly above. Mme. Audrey also shot some incredible film at the Ball this year.

Calamity Lulu and Dizzy Decibel.

Totter and the wide-eyed Virginia.

Vau de Vire Society ringmasters Mike and Shannon Gaines. These lifelong sweethearts serve as co-producers, artistic directors, and lead choreographers of the Ball.

The much-beloved Rachel Brice, performing with Portland's  Vagabond Opera.

Flynn Creek Circus wowed the crowd with a stunning trapeze duet performance.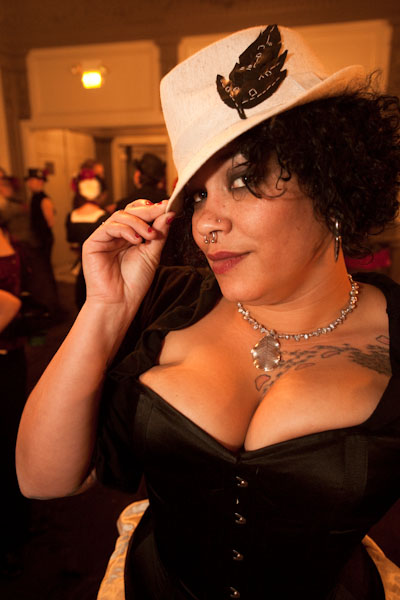 Anna Quinones, production assistant to Justin, and an old friend.

One of my favorite pictures from last year (which I had to include for completeness!), darling Meredith Yayanos –dressed as Gashlycrumb Rhoda– with her penny farthing.
And thus concludes the first decade of a most inspired and heartwarming community tradition. The Ball encourages all of us to return to a time when gentility was the norm– a celebration perfectly suited to quirky San Francisco's penchant for throwing down at the drop of a top-hat to create costumes and characters (as a score of friends did last year as the Gashlycrumb Tinies). Here's hoping the Ball once again returns to Los Angeles so we don't have to wait until next January for another fix!